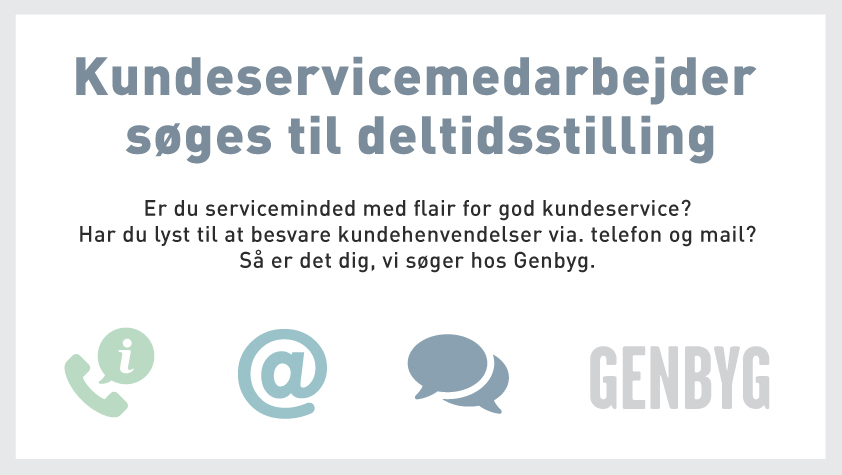 Er du serviceminded med flair for god kundeservice? Har du lyst til at besvare kundehenvendelser via. telefon og mail? Så er det dig, vi søger hos Genbyg til en deltidsstilling.
Arbejdsopgave: at yde god, saglig kundeservice så vores kunder er sikret, at deres henvendelse via. telefon eller mail bliver behandlet korrekt – including: spørgsmål til produkter, faktura, returnering af varer m.m.
Der er tale om en deltidsstilling, men vi forventer, at du kan arbejde alle hverdage: eksempelvis fra kl. 09 – 14. Arbejdspladsen er på Amager, 2770 Kastrup.
Who are you?
We imagine, at den rette person, udover at være serviceminded, er velformuleret på dansk og engelsk – både skrift og tale. Du har en positiv indstilling og har gode erfaringer med kundeservice fra et tidligere job. The frequency of customer inquiries varies from day to day,,da,that you can stay organized and structured,,da,That you feel like answering customer inquiries via,,da,telephone and mail,,da,That you take pride in providing the service our customers turn around,,da,have a sense of order with a good view,,da,That you are writing and verbally articulate in Danish and English,,da,part-time work,,no,hours a week with attendance weekdays,,da,Exciting work developing rapidly,,da,million visitors in our shop and in our shop on Amager,,da,All these customers deserve the best possible customer service,,da,Deadline d.20/10-17,,en,motivated application with corresponding CV and provides a reliable image,,da,CUSTOMER SERVICE OFFICER,,da,If you have questions about the job,,da,can you,,sv,in addition to the above address,,da,contact us at phone,,da,No.,,pl, It is therefore important, at du kan bevare overblikket og arbejder struktureret.
The job requires:
At du har lyst til besvare kundehenvendelser via. telefon og mails.
At du sætter en ære i at yde den service vores kunder henvender sig omkring.
That you are an avid sailor, har ordenssans med et godt overblik.
At du er skriftligt og mundtligt velformuleret på dansk og engelsk.
You can expect:
Deltidsstilling (as. 22 – 24 timer om ugen med fremmøde alle hverdage)
An independent and varied job.
A life as you are in the planning.
Gode arbejdskollegaer.
Spændende arbejdsplads i rivende udvikling.
Who is Rebuild?
Vi er Danmarks største byggemarked med brugte byggematerialer. Vi har årligt over 1 million besøgende i vores webshop og i vores butik på Amager. Alle disse kunder fortjener den bedst mulige kundeservice. Vores vision er, at bæredygtighed betaler sig både økonomisk, socialt og ikke mindst af hensyn miljøet. Vi har eksisteret siden 1998 og er specialiseret i opkøb og videresalg af genbrugsmaterialer. De seneste par år har vi udvidet vores forretningsområde med bæredygtige byggekomponenter. We have among others. delivered 1800 kvm2 wall panels of recycled wood to Copenhagen Towers in Ørestad and helped to design and build Cofocos New Restaurant Growth in St. Peter's Straits.
Praktisk info:
Deadline d.20/10-17: Vi læser ansøgningerne løbende.
Salary by agreement.
Hvis du er interesseret i stillingen bedes du sende en kort, motiveret ansøgning med tilhørende CV og et vellignende billede. In the subject line please write,,da,JOB,,en,PHOTO STUDY,,de,Thomas@genbyg.dk,,en,If you have questions or require additional information,,da,tel,,da,no.,,pl: KUNDESERVICEMEDARBEJDER.
The mail should be sent to: Thomas@genbyg.dk
Hvis du har spørgsmål til jobbet, kan du, udover ovenstående mailadresse, kontakte os på tlf. nr. 38160784